Storage & sheds for small gardens – Get the most from your garden space
March 11, 2015
If your home has a smaller garden than most, you can find your options for a shed or storage unit are considerably limited.
This needn't be a lasting problem however, as we stock a wide range of high quality metal garden storage options at Trimetals. No matter what your specific storage needs, we are confident that we have the solution.
In order to help you make the optimum choice when it comes to locating the ideal garden storage product, we have taken a look at some specific categories of garden storage, and recommended the best options within those categories for smaller gardens.
Garden equipment storage for small gardens
Just because your garden is at the smaller end of the spectrum, it doesn't mean you have no use for equipment like trowels, hedge trimmers, sheers, secateurs and more. The only thing that's different for smaller gardens is that there is less leeway in terms of where equipment is kept between uses.
This is the exact kind of circumstance that the Sentinel Garden Storage Unit was designed for. Featuring a height of 1 metre, a width of just under 1.1 meters and a depth of 66 centimetres, it's extremely unlikely that you won't be able to squeeze this particular storage method into even the smallest of gardens.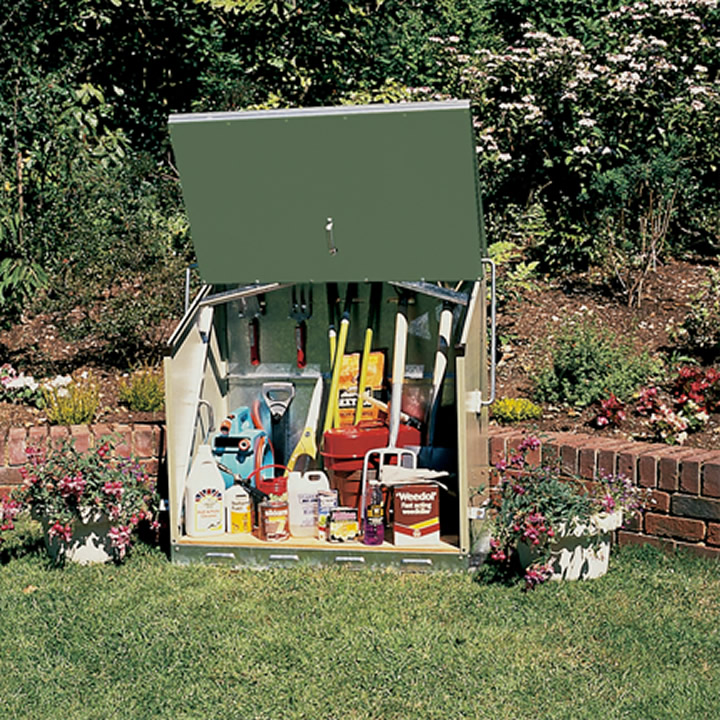 Size isn't the only way the Sentinel has been optimised for small gardens; the access point for this storage unit has been specifically designed with ease of use in mind; with a spring assisted, vertically folding door providing effortless walk in access. Whilst fully secure when closed, the door to the Sentinel requires no additional clearance to be completely opened.
The Sentinel is maintenance free, due to its peerless construction and high quality construction materials. There's also no requirement to regularly move it in order to clean or condition its surface, making it an even more convenient choice for areas with small garden space.
Small garden storage options for decking or patios
For smaller gardens that have been paved or decked, it's essential that garden storage is both exceptionally compact, and ideally able to offer multiple uses around its primary function.
When it comes to delivering this level of functionality the Protect-a-box excels in all areas. The largest size of Protect-a-box that we offer measures in at 72.5 centimetres high, 78.5 centimetres wide, and a length of 187.5 centimetres. This provides a compact size ensuring that it will comfortably fit within the confines of a smaller patio or wooden deck.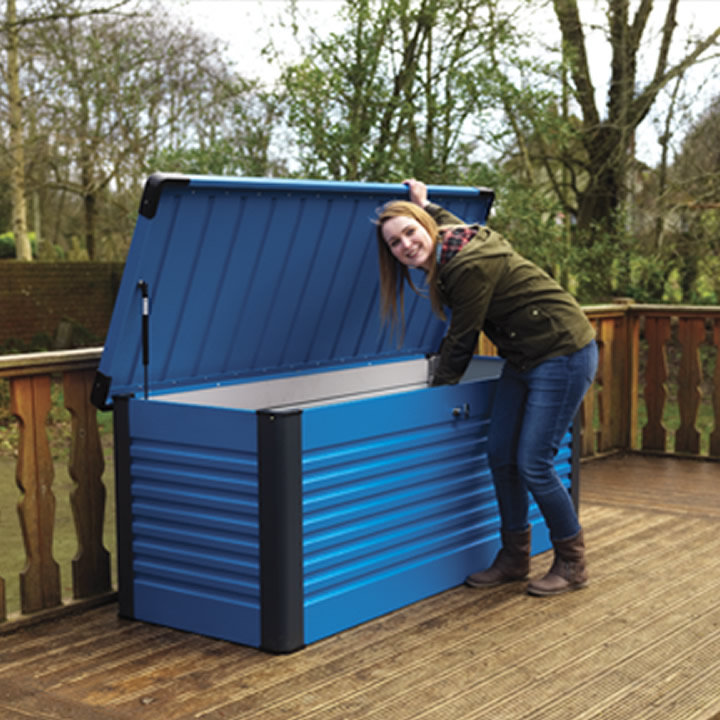 Its flat PVC-coated galvanised steel lid is ideal for use as a bench, or a table to hold plants or ornaments, making it an effective part of the garden even when not being frequently used.
Read even more about the advantages of Protect-a-Box here.
Small sheds for cramped gardens
Of course, it's still feasible to need a larger amount of storage room than the Sentinel or Protect-a-box are provide.
The Guardian Garden Storage Cabinet requires around a third more depth and width than a Sentinel, but delivers nearly twice the height. This gives you a great deal more storage room, without significantly compromising any more of your garden's precious real estate!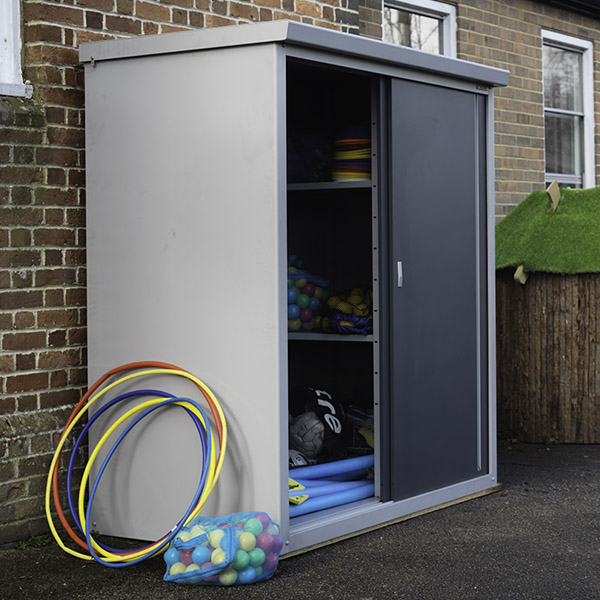 Customisable shelving inside allows you to create tailored storage space for whatever specific garden tools or implements you intend to keep within; from lawnmowers and stepladders, to something as small as a trowel.
The Guardian features the same kind of functionality as the Sentinel  when it comes to access, with a sliding door that requires no additional clearance to open, whilst still allowing enough space for the conveyance of even the largest of pieces garden equipment to and from its confines.
Read even more about the advantages of the Guardian storage cabinet here.
Bike storage
Of course, garden storage isn't exclusively the purview of garden tools and equipment.
Many people with large gardens enjoy the easy luxury of secure vehicle storage. However, when it comes to small garden storage options, the choice is complicated by the comparative lack of space.
In the smallest of gardens it's fair to say that storing a car may be too much to hope for, but convenient storage of bikes and motorbikes is a far more attainable goal.
When it comes to bike storage, especially if you intend to place it in your front garden, you want to ensure that you're not compromising on security in order to find a product that best fits in; which is exactly where the Trimetals Bicycle Storage Box comes in.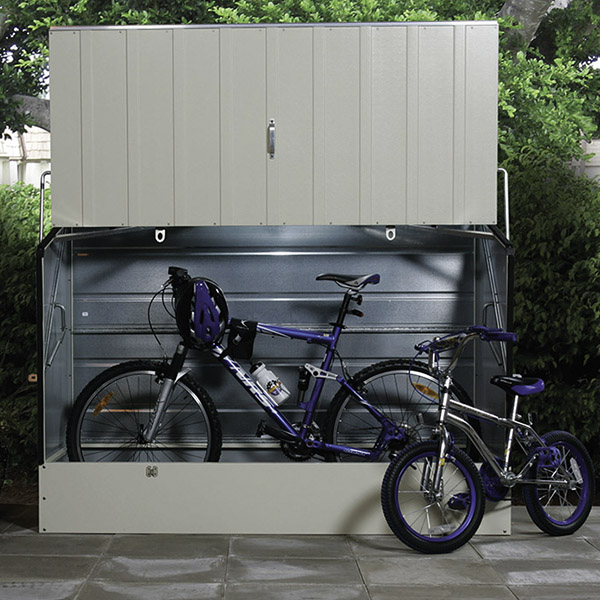 Also available in a hardened, more secure variant, the Protect a CycleTM, our bike storage options provide the storage space for up to 3 adult sized bikes, all with the easy access functionality of the Sentinel storage box.
At just 1.96 metres wide, 1.33 metres high, and 89 centimetres deep, it should be a cinch to fit these storage options into even the most cramped gardens.