Features
Strong, Rigid and Unique Design
Secure Lockable door mechanism
Maintenance-free
20 year Guarantee
PVC-coated Galvanised Steel Construction
Ventilated
Fire-Resistant
Simple, Rapid Construction
Clear Step by Step Instructions
Range of Accessories
Double Doors available
Available without Windows
Description
Our new range of coloured sheds are ideal for the modern garden, school, avid football supporter or those who wish to create the popular 'beach hut' look.
Available in blue and white, red and white or black and white, they will certainly 'stand out' and create a great focal point for your garden.
This metal shed range is available in our apex roof style 6' x 8' and 6' x 6' sizes (approximate dimensions - see the dimensions tab for more details), they come as standard with a single door and one window; however, we can supply with no windows or with optional double doors if required.
Accessories include metal shelving, workbenches, wooden flooring and electronic alarms (see below for options).
Siting: Our sheds must be bolted onto a flat and level concrete base. The recommended thickness of the base is 100mm.
Note that this range features a 20 year panel guarantee.
Unique design, strength and quality.
Dimensions
Dimensions in Metric (Millimetres) for Titan 660
Length
1820
Width
1820
Height to Apex
2100
Door Width
685 single
1395 double
Hard Base Area
2146 x 2143
Dimensions in Metric (Millimetres) for Titan 680
Length
2430
Width
1820
Height to Apex
2100
Door Width
685 single
1395 double
Hard Base Area
2146 x 2758
Click to see product specifications
| | |
| --- | --- |
| Integral Base | Standard on all models |
| Panel Material | PVC-coated galvanised steel |
| Panel Colour | Panels only available in white, with Red, Blue or Black highlights |
| Exterior Fixings | Stainless steel |
| Other Fixings | Galvanised (zinc coated) steel |
| Base and Frame | Galvanised steel |
| Lock | Keyed lock with cammed locking bar locating to both top and base of door |
| Door Location | Located in 6' side |
| Door Height | 5'9'' (1740mm) |
Accessories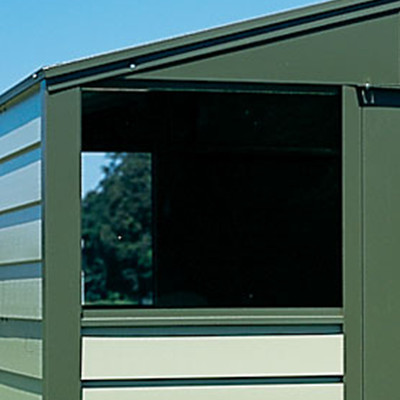 Windows
Titan 600 range - Supplied with one window as standard but may be supplied without windows if required. As an optional extra these sheds may also have two windows. Windows are always placed either side of the front door. If you select double doors as an option you cannot have any windows.

Shelving and Benching
Two-tier shelving and benching are available for all Titan models. The shelving is fixed to the inside face of the shed frame and the benching is free standing. Shelving Dimensions: (Two-tier): 69" (1752mm) Long x 8" (203mm) Deep. Benching Dimensions: (Two tier):33" (838mm) High x 15.5" (394mm) Deep with length depending on Titan model from 43" (1092mm) to 86" (2184mm).

Flooring
High quality wooden floors can be supplied for all models. These are cut to size and are placed onto a ledge which is integrated into the building's base frame. A metal floor support kit is also included and recommended if heavy items are being stored.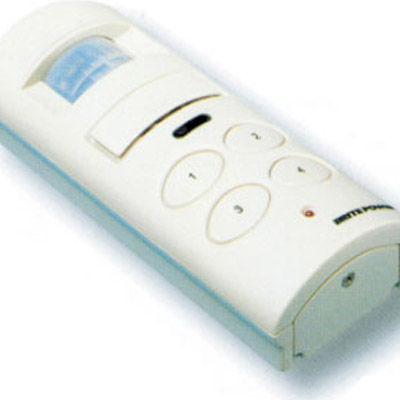 Alarm
Key pad operated infra-red movement sensing alarm with loud (130 db) siren comes complete with unique fixing bracket for easy installation. Note: Batteries not included.
Double Doors
If you select double doors as an option you cannot have any windows.
Latest Reviews
mr paul v thompson says
SERVICE
Ordered a shed floor. Fast and efficient service. Had to guess where strengthening struts went. Could do with clear guidelines. Good people to deal with.
PRODUCT
I've had the shed for about 6 years now. No signs of any corrosion. I recently had a need to move it and it came apart with ease. My recent purchase was for the wooden floor. It fitted ok after I figured how to place the metal spacers. All in all, good quality products with great comms. Recommended.
4.5
Trusted Reviewer says
SERVICE
Delivery took a bit longer than advertised due to a stock take which meant that timings for receipt of the bike store became a bit difficult. It was fairly straight forward for an experienced handy man to put together and is working very well. It fits one men's and 2 ladies bikes ....just! We had to take a picture to remind ourselves how to get the bikes back in after we got them to fit the first time as it is quite an art to get the 3 adult bikes in.
PRODUCT
2