Features
Japanese Design, Quality and Engineering
Contemporary Style and Attractive Polyester Painted Two Tone Finish
Maintenance-Free
Easy Assembly with Precision Manufacture
Fire-Resistant
Integral Key Operated Locks for Safety and Security
Reinforced Metal Floor
10 year panel guarantee against rust perforation
Description
The Guardian garden storage cabinet is an ideal solution for those looking to keep their belongings safe and secure.
Designed by one of the leading manufacturers of metal buildings in Japan, this exclusive product has been precision engineered from special Galvalume steel; it comes complete with an integral heavy duty metal floor and features smooth sliding metal doors with a key operated lock.
As well as helping to protect belongings, its contemporary aesthetics compliment modern garden styles while its quality and superior engineering ensure maintenance free operation. Furthermore, with its high walls and compact base, the Guardian is an ideal solution for situations where additional storage space is a luxury.
Supplied with two strong metal shelves as standard, this building can be customised with additional sets if required. In total, this product can hold up to a maximum of six shelves.
The new Guardian is perfect for storing and organising just about anything, it is especially useful for garden tools, ladders, sports and fishing gear, golf equipment, as well as toys and bicycles.
The Guardian comes with a two year guarantee on all parts as well as a ten year panel guarantee against rust perforation. Finally, it is easy to assemble and should be completed in under one hour.
Dimensions
Dimensions in Metric (Millimetres)
| | |
| --- | --- |
| Height | 1865 |
| Width | 1760 |
| Top Depth | 980 |
| Bottom Depth | 900 |
Accessories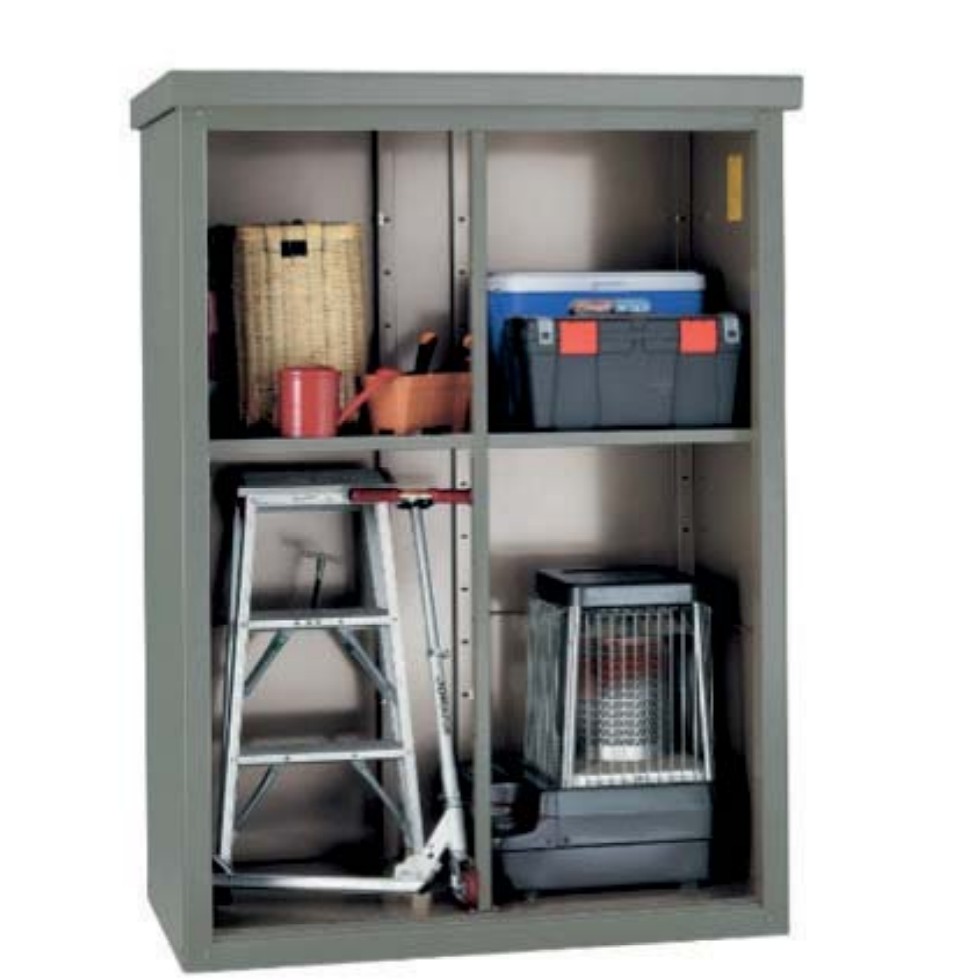 Shelving
Additional shelving sets (two shelves per set) can be purchased. Maximum of six shelves per shed. Shelf dimension 843mm wide x 777mm deep.
Latest Reviews
mr paul v thompson says
SERVICE
Ordered a shed floor. Fast and efficient service. Had to guess where strengthening struts went. Could do with clear guidelines. Good people to deal with.
PRODUCT
I've had the shed for about 6 years now. No signs of any corrosion. I recently had a need to move it and it came apart with ease. My recent purchase was for the wooden floor. It fitted ok after I figured how to place the metal spacers. All in all, good quality products with great comms. Recommended.
4.5
Trusted Reviewer says
SERVICE
Delivery took a bit longer than advertised due to a stock take which meant that timings for receipt of the bike store became a bit difficult. It was fairly straight forward for an experienced handy man to put together and is working very well. It fits one men's and 2 ladies bikes ....just! We had to take a picture to remind ourselves how to get the bikes back in after we got them to fit the first time as it is quite an art to get the 3 adult bikes in.
PRODUCT
2