INTRODUCING: the new Patio Box / Protect•a•Box range
December 15, 2014
Here at Trimetals, we're proud to unveil the latest product in our comprehensive selection of garden storage options; the garden patio box "Protect•a•Box" range.
Coming in two different size options, this new range of metal garden storage solutions has been manufactured with a focus on design as much as storage capability; the Protect•a•Box is about adding as much value and function to your garden as possible, on top of being a secure and protective storage space for garden tools and accessories.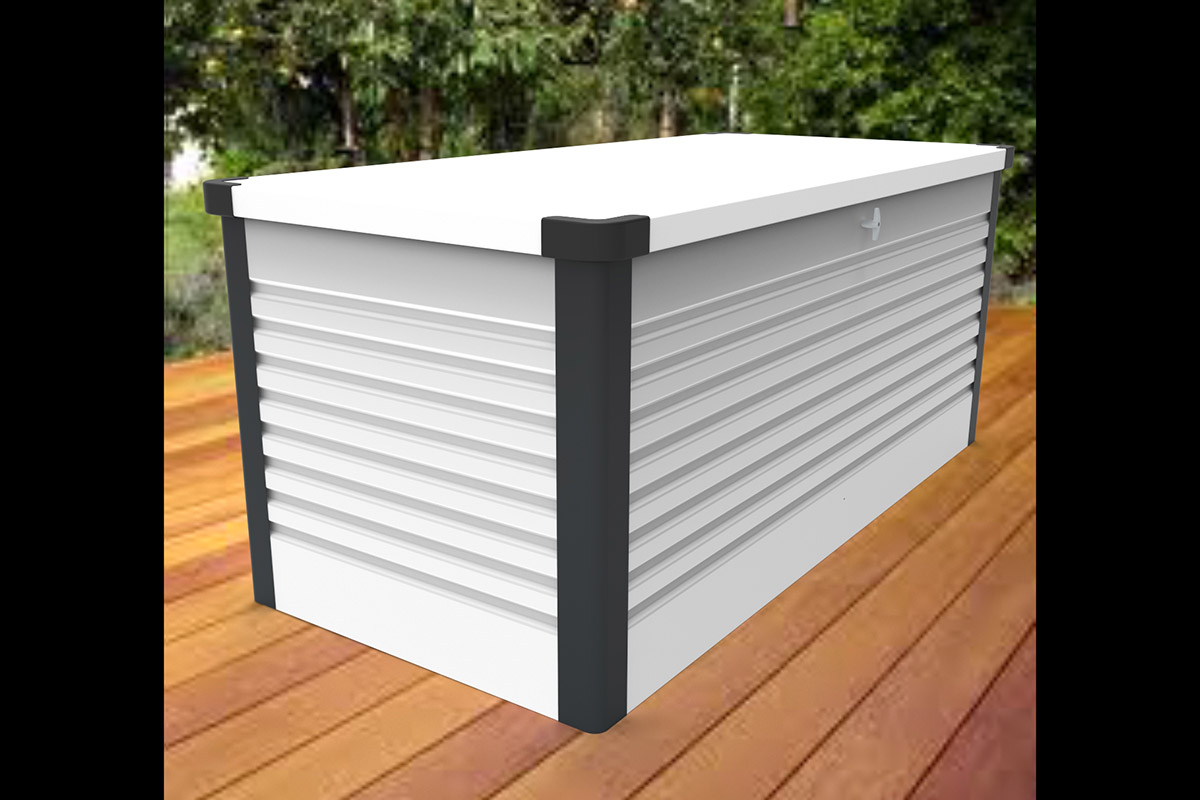 The last word in secure garden storage
Our confidence in the security of this patio box is demonstrated in our 25 year panel guarantee; the PVC-coated galvanised steel construction of this metal garden storage solution is fire-proof and weather resistant, and requires no maintenance.
This already comprehensively secure package is rounded off with a strong locking mechanism; when it comes to security with the Patio Box, there are no weak links!
Range of alternate functions
One of the advantages of a secure garden storage option the size and dimensions of the Protect•a•Box range, is that they are the ideal height to be utilised as tables or seats for your garden, whether on a patio, lawn or decking.
This ensures that even gardens where space is at a premium can easily utilise and make the most out of a patio box; its multiple potential uses guarantee the efficient use of space.
Simply throw on a few cushions, or move it against a wall, to create a comfortable seating arrangement, or utilise as a table for gatherings in the garden.
Easy to incorporate into existing designs
In a similar way, the large range of colours that the Protect•a•Box range is available in ensures that it's easy to coordinate with any design of garden.
This corresponds with the focus of the product itself; providing reliable, durable storage that is as visually and physically unobtrusive as possible.
As well as being a real boon to those who have expended real effort on the overall aesthetics of their garden, this is also a further level of security; not only are your garden tools and accessories stored behind a high quality metal storage container, but the container is able to be camouflaged as a further aesthetic or practical design element of any given garden.
Versatile security
As well as being aesthetically versatile, Protect•a•Box also offers a great deal of flexibility in regards to its specific role; its hard wearing, durable design makes it the ideal option for use in a variety of specific roles/locations.
The Trimetals Protect•a•Box range starts from £549 (including delivery and VAT) and can be purchased here.