Features
Please note: The unit shown in the image above is the 'Large' unit.
Unique and Patented Design
Complete "WALK IN" Access
Metal Floor and Two Padlocks Included
Spring-Assisted Opening Action
Maintenance-Free
25 Year Panel Guarantee
PVC-Coated Galvanised Steel Construction
Fire-Resistant
Simple, Rapid Construction
Clear Step by Step Instructions
Range of Accessories
Two Padlock Points as Standard (4 MAX)
Description
Available in three sizes this product is ideal for school and nursery storage, suitable for general playground items and a wide range of sports equipment.
The unique patented design and spring assisted opening action allows for complete 'walk in' access to your stored items.
Maintenance free, fire resistant and constructed from a modern PVC coated galvanised steel which is guaranteed for 25 years against corrosion.
These stores are supplied complete with integral metal floors (which can be easily cleaned / hosed out); and also two padlocks are included for security.
Depending on the location and your specific use you may also wish to consider the optional additional hasp and padlock sets which can increase the locking points to a maximum of four.

They are supplied in a convenient flat pack and are extremely simple to construct as all major components are factory assembled for you, they come complete with all necessary fixings and easy to follow illustrated assembly instructions.
All models are available with an olive green roof and door with moorland green sides; the large model can be supplied in a choice of colours.
Accessories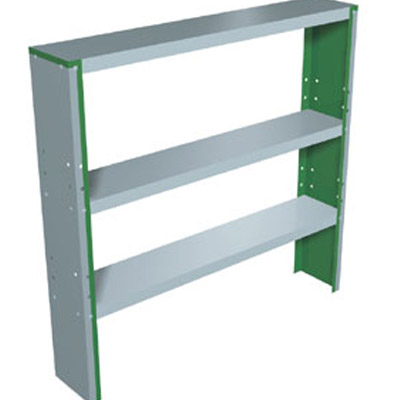 Shelving
Our adjustable staged shelving sets are ideal for organising small items ensuring you get the maximum benefit from the storage space. The large version can hold two shelving sets and the medium can hold one – not available for the small version. Shelving dimensions: Height 820mm, Width 840mm, Depth 150mm.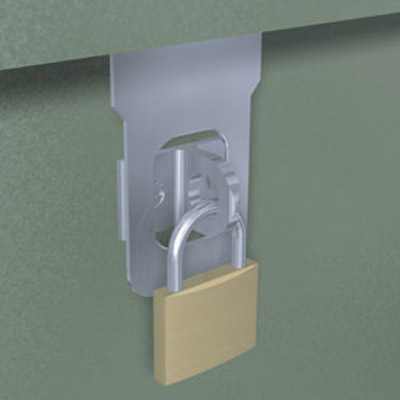 Hasp & Padlock
For even greater security this high quality lock set also secures the units front door to the base. Both hasp and padlock feature a stainless steel brass construction for long life. One or two sets can be fitted as required.
Dimensions
Small
Internal Dimensions in Metric (Metres)
| Height (front) | Height (back) | Width | Depth |
| --- | --- | --- | --- |
| 0.72 | 0.97 | 0.94 | 0.62 |
External Dimensions in Metric (Metres)
| Height | Width | Depth | Weight |
| --- | --- | --- | --- |
| 1.00 | 1.09 | 0.66 | 29kg |
Medium
Internal Dimensions in Metric (Metres)
| Height (front) | Height (back) | Width | Depth |
| --- | --- | --- | --- |
| 0.89 | 1.09 | 1.22 | 0.84 |
External Dimensions in Metric (Metres)
| Height | Width | Depth | Weight |
| --- | --- | --- | --- |
| 1.13 | 1.38 | 0.89 | 38kg |
Large
Internal Dimensions in Metric (Metres)
| Height (front) | Height (back) | Width | Depth |
| --- | --- | --- | --- |
| 1.09 | 1.29 | 1.80 | 0.84 |
External Dimensions in Metric (Metres)
| Height | Width | Depth | Weight |
| --- | --- | --- | --- |
| 1.33 | 1.96 | 0.89 | |