Features
Strong, Rigid & Unique Design
Secure Lockable door mechanism
Maintenance-Free
25 Year Panel Guarantee
PVC-Coated Galvanised Steel Construction
Ventilated
Fire-Resistant
Simple, Rapid Construction
Clear Step by Step Instructions
Range of Accessories
Double Doors
Description
The Titan 900 series features three models - the Titan 940, 950 and 960.
They feature wide double doors as standard and are not available with windows.
A full range of accessories is also available for Titan 900 garden sheds including benching, shelving, wooden floors, hasps and padlocks and alarm.
Siting: Titan metal sheds can be placed on a variety of different bases.
Roof style: The 940, 950 and 960 have a Pent roof style.
We have a special offer on the Titan 960 model. Click here to find out more!
Trimetals' sheds are easy to construct and even easier to maintain.
They've been designed in a way that makes them simple and safe to put up, even for those with only basic DIY experience. Precision engineering means that all parts fit together perfectly.
As well as supplying easy-to-understand assembly instructions with all of our metal sheds, we've created this handy video to guide you through the process step-by-step.
We can even help you decide which basing option to go for, although it's worth noting that all of our Titan metal garden sheds should be bolted down to a concrete base.
Once your shed is up and ready to use, there's very little maintenance to think about. With a 25-year panel guarantee, and fire-resistant materials, it'll be standing strong for many seasons to come. The fact that they're fire-resistant makes Titan sheds great for mobile home sites, and other locations where combustible buildings are unsuitable.
All of our metal garden sheds boast a robust, key-operated locking mechanism, with bolts at the top and bottom of the door making forced entry almost impossible. For that added peace of mind, we have windowless sheds and can even offer a state-of-the-art alarm system – perfect if you're storing particularly valuable goods.
Dimensions
Sizes are internal – allow 150mm extra for external length and width measurements 
Titan 940
Dimensions in Metric (Millimetres)
| | |
| --- | --- |
| Length | 2625 |
| Width | 1310 |
| Height to Apex | 2100 |
| Door Width | 1160 |
| Hard Base Area | 1760 x 3075 |
Titan 950
Dimensions in Metric (Millimetres)
| | |
| --- | --- |
| Length | 2625 |
| Width | 1540 |
| Height to Apex | 2100 |
| Door Width | 1395 |
| Hard Base Area | 1990 x 3075 |
Titan 960
Dimensions in Metric (Millimetres)
| | |
| --- | --- |
| Length | 2625 |
| Width | 1760 |
| Height to Apex | 2100 |
| Door Width | 1395 |
| Hard Base Area | 2210 x 3075 |
Click to see product specifications
| | |
| --- | --- |
| Integral Base | Standard on all models |
| Panel Material | PVC-coated galvanised steel |
| Panel Colour | 630,640,660 available in olive green only. 680 available in olive green or two tone (moorland/olive green) |
| Exterior Fixings | Stainless steel |
| Other Fixings | Galvanised (zinc coated) steel |
| Base and Frame | Galvanised steel |
| Lock | Keyed lock with cammed locking bar locating to both top and base of door |
| Door Location | 630, 640, 660, 680 located in short side |
| Door Height | 5'9'' (1740mm) |
Accessories

Shelving and Benching
Two-tier shelving and benching are available for all Titan models. The shelving is fixed to the inside face of the shed frame and the benching is free standing. Shelving Dimensions: (Two-tier): 69" (1752mm) Long x 8" (203mm) Deep. Benching Dimensions: (Two tier):33" (838mm) High x 15.5" (394mm) Deep with length depending on Titan model from 43" (1092mm) to 86" (2184mm).

Flooring
High quality wooden floors can be supplied for all models. These are cut to size and are placed onto a ledge which is integrated into the building's base frame. A metal floor support kit is also included and recommended if heavy items are being stored.

Hasp and Padlock Set
These quality stainless steel and brass hasp with padlock secures both doors and is an extra visible deterrent to thieves.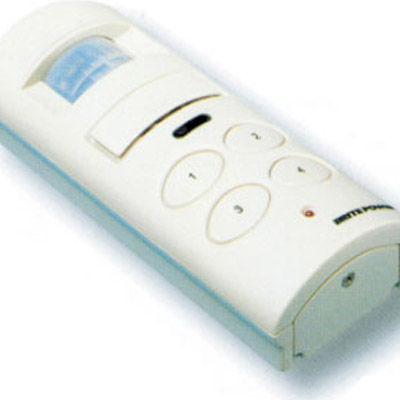 Alarm
Key pad operated infra-red movement sensing alarm with loud (130 db) siren comes complete with unique fixing bracket for easy installation. Note: Batteries not included.
Customer Reviews
A Great Product
It was a choice between this and a traditional wooden shed. Thought I would try metal for a change (you don't buy many sheds in your life do you) and I am happy with the product. Assembled over a weekend with my brother-in-law, takes time but straightforward (just bolting bits of metal together really). Great product so would recommend (9x6 pent purchased),.
Looks Good,
I liked the look of these sheds as some metal sheds resemble air raid shelters. A modern take on a traditional design. Delivered on a Friday morning and fully assembled (on a pre-prepared concrete plinth) on the same afternoon. Impressed all round, assembly made much easier by part labelled components. A nice looking sturdy shed.
Good Solid Build Quality
Have always had wooden sheds in the past as I was not sure about changing to metal. Went to see these at my local garden centre near Reading and was impressed by the build quality. Was advised that the show model had been on site for nearly three years – looked good. Ordered 9ft x 6ft pent roof option with double doors. Well packed and careful delivery. 10/10.
Write your own review
You're reviewing: Titan 900 Metal Sheds
How do you rate this product?