Features
Strong, Rigid & Unique Design
Secure Lockable door mechanism
Maintenance-Free
25 Year Panel Guarantee
PVC-Coated Galvanised Steel Construction
Ventilated
Fire-Resistant
Simple, Rapid Construction
Clear Step by Step Instructions
Range of Accessories
Double Doors
Description
The Trimetals Titan 108 is the largest model in our range of sheds and at approximately 10' x 8' (3m x 2.4m) it's ideal for storing ride-on equipment or larger garden machinery.
The Titan 108 features an apex roof and is available in a two-tone olive and moorland green colour scheme. The robust PVC-coated galvanised steel panels are guaranteed for 25 years and will require no maintenance to stay looking smart.
This metal shed is supplied as standard with two acrylic windows, one fitted either side of the wide double doors. As an option, this model can have an additional two windows fitted to the rear, giving a maximum of four windows. Alternatively, where security is of particular concern, the shed can be supplied without any windows.
All Trimetals sheds incorporate advanced security features. The doors of the Titan 108 feature a secure locking mechanism, with a keyed lock with cammed locking bar that locates to both top and base of door. All external fittings are in stainless steel to maintain long term strength and durability. As an optional extra, a key pad operated infra-red movement sensing alarm with loud (130db) siren is available, supplied complete with a specially-designed fixing bracket for easy installation.
Additional accessories include Trimetals' bespoke shelving and benching solutions. The two-tier shelving has been designed to be fixed to the interior face of the shed frame for robust storage, while the benching is freestanding and can be moved around according to requirement. A high quality wooden floor is available if required, supplied cut to size and ready to place onto a ledge integrated into the building's base frame.
Clear step by step instructions are provided for simple, rapid self-assembly. All Titan metal garden sheds are designed to be bolted down onto a flat and level concrete base, with a recommended thickness of 100mm. Please see the dimensions table for full information on recommended dimensions of the hard base.
Dimensions
Dimensions in Metric (Millimetres)
| | |
| --- | --- |
| Length | 2372 |
| Width | 2980 |
| Height to Apex | 2200 |
| Door Width | 1395 |
| Hard Base Area | 3430 x 2832 |
Sizes are internal - allow 150mm extra for external length and width measurements
Click to see product specifications
| | |
| --- | --- |
| Integral Base | Standard on all models |
| Panel Material | PVC-coated galvanised steel |
| Panel Colour | Two Tone only |
| Exterior Fixings | Stainless steel |
| Other Fixings | Galvanised (zinc coated) steel |
| Base and Frame | Galvanised steel |
| Lock | Keyed lock with cammed locking bar locating to both top and base of door |
| Door Location | In 10' face |
| Door Height | 5'9'' (1740mm) |
Accessories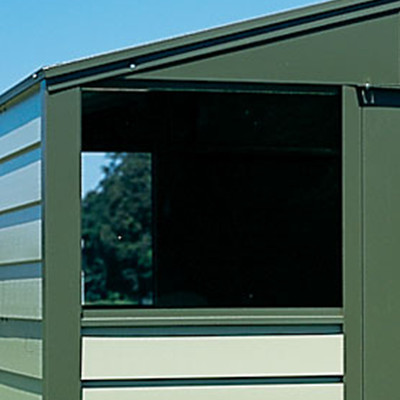 Windows
Titan 10X range - Supplied with two windows as standard but may be supplied without windows if required. As an optional extra these sheds may also have four windows.

Shelving and Benching
Two-tier shelving and benching are available for all Titan models. The shelving is fixed to the inside face of the shed frame and the benching is free standing.
Shelving Dimensions (Two-tier): 69" (1752mm) Long x 8" (203mm) Deep. Benching Dimensions (Two tier):33" (838mm) High x 15.5" (394mm) Deep with length depending on Titan model from 43" (1092mm) to 86" (2184mm).

Flooring
High quality wooden floors can be supplied for all models. These are cut to size and are placed onto a ledge which is integrated into the building's base frame. A metal floor support kit is also included and recommended if heavy items are being stored.

Hasp and Padlock Set
These quality stainless steel and brass hasp with padlock secures both doors and is an extra visible deterrent to thieves.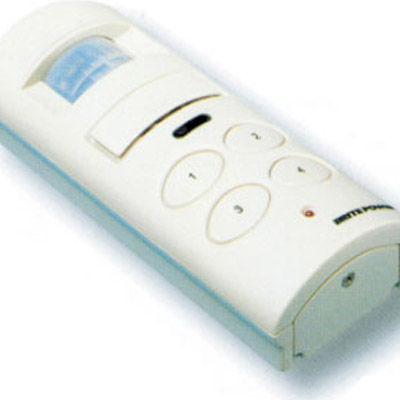 Alarm
Key pad operated infra-red movement sensing alarm with loud (130 db) siren comes complete with unique fixing bracket for easy installation. Note: Batteries not included.
Customer Reviews
Love it,
Very pleased with my new 8x10 shed. Assembled (methodically) during my week off and impressed with the result. Went together well, the components page in the instructions could be a bit clearer but all the components are labelled so no real hitches. Looks great now – love it!
Decent Shed
We looked at many other sheds in this price bracket (plastic, wooden, metal) – the Trimetals 10' x 8' seemed but for our requirements. Took best part of a day to construct – time consuming rather than difficult. Even if you make a small mistake in assembly it's easy to change afterwards. Overall a descent shed for the money.
Really good design
Great design in terms of aesthetics, functionality and ease of construction. My 10x8 was best part of £2K including accessories but the high quality convinces me that this will last a very long time (at least my lifetime). So really impressed – these smaller manufacturing companies have a reputation to uphold – well done!
Write your own review
You're reviewing: Titan 108 Metal Garden Shed
How do you rate this product?