Base Type 4 – Spirafix method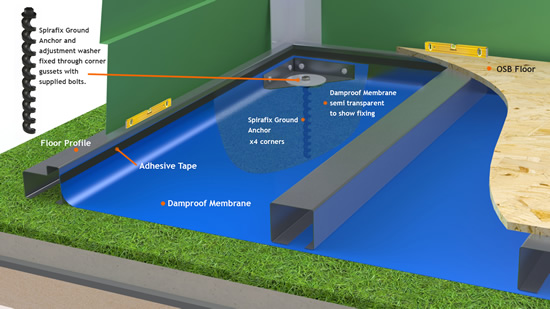 If locating onto grass, a "Spirafix" anchor can be used. This fixing is screwed down through the corner gussets and into the soil below. With this method you must place a thick polythene sheet on top of the grass and attach to the metal base with heavy duty weatherproof tape (see illustration). This will help prevent moisture rising inside and possibly causing condensation. We would also recommend using our optional wooden floor kit, as the polythene sheet membrane will become damaged when walked upon. When using the Spirafix anchor you must ensure that the manufacturer's recommendations are followed.
IMPORTANT: this information is for use as a guide only – you must ensure that your shed is securely fastened down. Trimetals cannot be held responsible or liable for damage or injury caused by products which are not secured properly.