Static Caravan Storage
Mobile Home Storage boxes and Sheds
Our comprehensive range of storage units have proved immensely popular for static caravan and holiday home parks. They offer safe, dry and secure storage for all those items you don't want to keep inside your home.
Unlike wooden or plastic alternatives, all our stores are fire-resistant (a certificate is supplied with each product) and they will not warp, become weak and brittle, crack or discolour over time, even in coastal locations thus offering excellent value for money long term.
Superior Strength and Security
The unique all metal construction gives strength with security and with the option of up to four locking points (with optional hasp and padlock sets) all your stored items are very well protected.
Unique Patented Design
One of the most important features of our stores is the unique and easy to use spring assisted opening action which allows complete "walk in" access. With this design heavy or awkward lifting is all but eliminated as stored items are easily accessible.
25 Year Guarantee
All static caravan storage units are manufactured in the UK using PVC-coated galvanised steel which is maintenance-free, fire-resistant and guaranteed for 25 years, ensuring lasting good looks and trouble free use even in harsh coastal locations.
Choice of colours - Easy Assembly
The Storeguard and Bicycle Store are available in a choice of colours - the original Olive Green which is popular in forest or lakeland areas or Cream which has been carefully selected to blend as closely as possible with the panels featured on many static caravans. Other units in the range is currently available in olive only.
All static caravans are supplied in a convenient flat pack and are simple to construct as all major components are factory assembled for you, they come complete with all necessary fixings and easy to follow illustrated assembly instructions.
Designed for Mobile and Holiday Home Parks
Trimetals Stores are especially suited for use on parks and were originally designed to replace wooden and plastic boxes which are now restricted due to fire risks. Our stores have many clear advantages and are available in sizes large enough to store outdoor furniture and adult bicycles.
Reviews: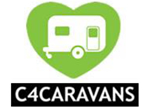 "The perfect solution for locking away your belongings. A great piece of kit for anyone that owns a static caravan and needs a secure outdoor cupboard." C4CARAVANS
"Trimetals has an enviable reputation in the mobile home industry for producing a wide range of high quality and stylish metal storage solutions. Its units are ideal for park home and holiday home owners as they are durable, virtually maintenance free and also compliant with fire regulations on mobile home parks. Over the years, they have proved very popular with Park Home & Holiday Caravan readers and I'm sure they will continue to be in the future." Alex Melvin, Editor, Park Home & Holiday Caravan magazine
We are members of:

BHHPABritish Holiday and Home Parks Association
Trimetals are Full Members of The British Holiday and Home Parks Association.

Trimetals are Full Members of The National Caravan Council (NCC).