Gas Cylinder Storage (LPG) – Safety, Security and Convenience.
February 9, 2018
Although there are various ways to store gas cylinders, or gas bottles (propane and butane), this article focusses on enclosed storage, used predominantly by mobile / static home parks, catering outlets and general industrial use.
The storage of LPG gas cylinders within an external housing (to prevent theft, tampering or simply for aesthetic reasons) – raises a number of significant and key considerations.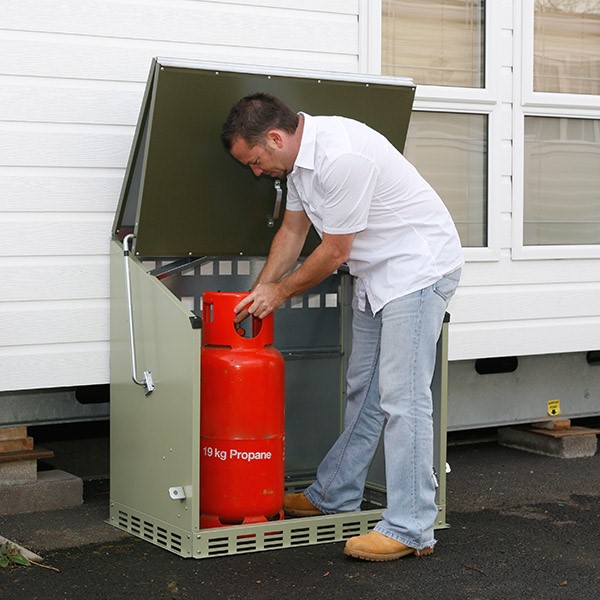 Understandably, the various materials used to manufacture any storage product of this type must be certified fire resistant; therefore wood or plastic stores are not permitted.
Concrete, brick or metal are all suitable materials, the most popular being metal as it is relatively inexpensive.
Additionally, the main advantage of metal stores is that they can easily be transported flat packed and built up quickly on site.
Ventilated storage
Gas cylinder storage units MUST be ventilated – there is a complex formula which dictates the amount of ventilation required based on the enclosed area of the store.
Both low and high level ventilation is required to create a 'free flow' of air through the unit – this is to prevent gas sitting inside and building up in the event of a leak.
NEVER use products that do not have any or sufficient ventilation.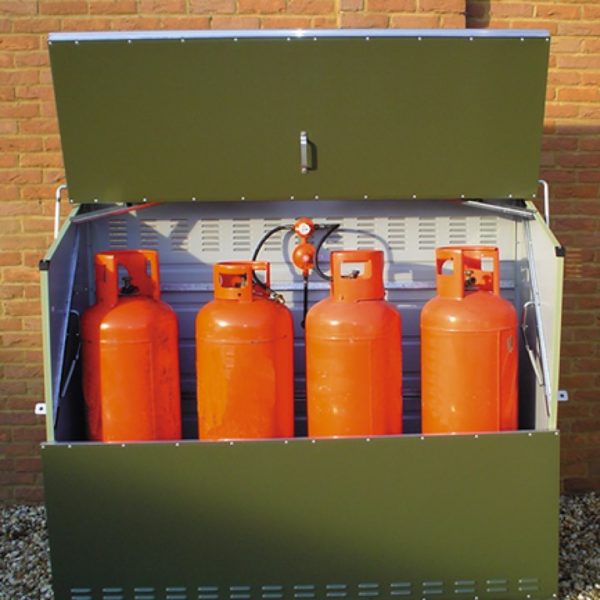 The two main types of LPG in gas bottles used today are propane and butane. Both of these can be housed in gas cylinder storage units that have been specifically designed for the purpose. As butane can freeze in extreme temperatures it is preferable to use propane for external applications.
 Gas Storage Compliance
There are a number of compliance issues and codes of practice associated with storing gas cylinders within containers so you must check the manufacturer's website to ensure you stay legal.
Gas cylinder stores should be supplied with full assembly and location instructions including safety labels (to warn others about the contents of the store).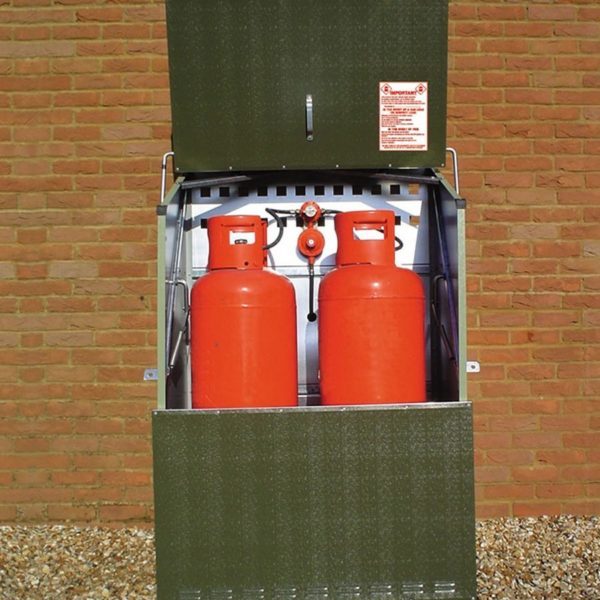 In particular, make sure that stores comply with BS5482: Part 1 2005 and BS476-22 as well as the LP Gas Association Codes of Practice regarding the use and storage of gas cylinders at residential premises.
Stay within the Law
Always purchase safety equipment, such as gas cylinder stores, from recognised retailers or direct from the manufacturer. If you do not, you risk purchasing substandard products which may not conform to legislation and you might be held responsible if an accident or explosion occurs.
For our complete range of gas cylinder storage for mobile home parks and other industrial use visit our product page