Getting your motorbike ready for spring and beyond.
May 12, 2017
Before your first ride of the year make sure that your bike is running smoothly and safely.
Remember that you may not have used your bike for months, you will be out of practice and there may be something you have overlooked when checking your bike – so please ride very carefully on your first outing. 
Unless you brave all weathers (and the salt gritter) over the winter and autumn it's now time to get it out of storage and ready to ride.
Firstly make sure your insurance, tax and MOT are up to date before even considering getting on your motorbike, it's easy to forget these after a winter break.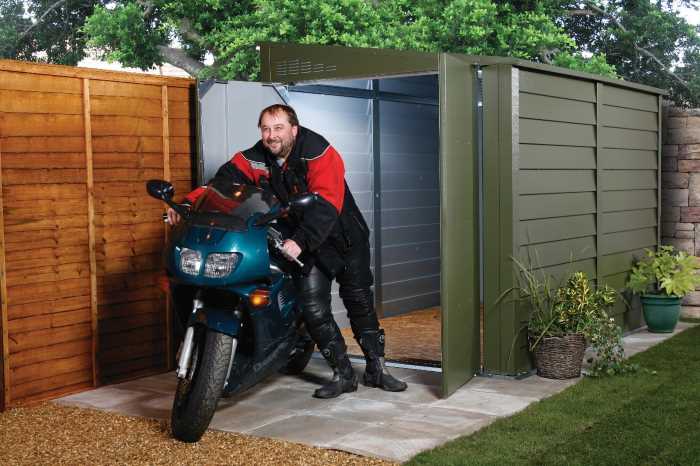 A great place to store your bike over winter – www.protectabike.co.uk
Checks
Whilst fairly straightforward to check over yourself it is always sensible to get a local shop or dealer to give it a once over if you are still unsure about anything.
Many dealers now offer a checking service and will make any necessary adjustments to cables, brakes and chain as well as giving further advice if more work is necessary; this will typically cost around £100 but is money well spent.
However, if you are confident that you can carry out the checks yourself then read on:
Clean the bike with warm soapy water using a sponge, and if also using cloths be very careful not to get them caught in the cables or chain, then wash off thoroughly with clean water.
Getting rid of the dirt and grime will make it much easier to spot any potential problems.
Look for any signs of physical damage or areas which may have become rusty, if you notice rust on the chain or cables you will need to replace them.
Brakes
Probably the most important part of your bike, the braking system must work properly.
Inspect your brake pads, if they are worn or damaged then replace them; also check the brake lines for any leaks or cracks.
Ensure the brake fluid reservoir bottle is topped up to the max line and then test the rear and front brakes independently to ensure they work properly.
Listen for any squealing or scraping which can indicate wear or other problems.
Tyres
Firstly, check the pressure in both tires (to the manufacturer recommendations), if the tires are showing a very low pressure then this will probably be the sign of a puncture or faulty valve and will need to be replaced.
Take time to check tyres for cracks on the running surface and side wall; also ensure that the tread is legal and in good condition.
Check for flat spots which may have been caused in the past by heavy braking, these can also occur when the bike has spent time sitting in one place for some time.
Battery
Before you start-up check the battery terminals for corrosion or dirt, make sure the terminals are clean and the cables are firmly connected.
Fluids
Check all of these, brake fluid, oil, hydraulic and petrol.
It is always advised to open the fluid reservoir (if possible) to check the levels, as some fluids can stain the reservoir bottle making it appear that more fluid is inside than there actually is.
Remember that if fluids are left for a long period of time they can degrade so look for changes in uniformity and colour – replace fluids that look dirty or different to when you topped them up last time.
Also, check your manual for fluid changing schedules – for example, do you need to change your oil?
Talking of oil, it is a good idea to check the condition of your oil filter for leakage or cracks (also it's sensible to look at your air filter – unwanted visitors such as mice or insects has use these as a home over winter).
Chains (or drivebelts)
 Ensure your drive chain or belt is in good condition; check the tension and signs of tearing (drivebelt) or damaged teeth (chain).
Controls
Check throttle, clutch, steering and all other controls for correct operation. Again check hoses/cables for signs of cracks or leaks, make sure they are not squashed or kinked in any way.
Test the steering to ensure full movement and that it is not catching on anything.
Lights
Test headlight (and full beam), brake lights and indicators are all working properly.
Make sure the lenses are clean and not cracked.
Also, test that the horn is audible.
Safety Gear
 Before you get on your bike check over your helmet for damage and that the visor and inner lining are clean. Ensure your leathers are still a good fit and check your emergency kit (which is always worth carrying).
Enjoy your riding and keep safe!